EV Home Charging Stations
Owning an electric vehicle (EV) is a great decision and works well with solar systems in your home. EV's are a more sustainable, economical way to travel compared to petrol-run vehicles.
Home EV Charging stations allow homeowners of EV's to charge their vehicles whilst your solar system is generating throughout the day or evening with the use of battery storage. Chargers can be plugged into a standard 3-pin NZ power outlet. This is ok for overnight charging, standard charging. When you wake up, you'll have a fully charged vehicle ready for the day.
Most EV chargers will include a time that be set to ensure you're not needlessly charging a full battery. 
EV charging stations offer low-cost, robustness and user friendly operation and can be done in the comfort of your own home. 
Tips when charging an EV:
Here are some handy hints when charging your electric vehicle:
Try to only use fast charge every so often. Too much fast charge could wear the battery.

Charge on off-peak times at home – overnight usually makes sense.

Try to keep your car in as mild and dry a climate as possible. Extreme hot and cold temperatures can impact the battery health over time.

Make sure your EV, wall unit or both have a timer set to stop charging once at full capacity. Leaving your battery on charge for much longer periods isn't great for battery life.

Do not leave your EV with a low or empty battery for a long period of time, as this can harm the longevity of the battery or even render it useless. 

Take the time to learn about your vehicle and the manufacturer's charging recommendations. Each EV is different and you want to make sure you extend its life for as long as possible.
Benefits of an EV charger:
Compatibility – Most EV chargers are compatible with a wide array of EV car manufacturers.
Property Value –  An EV charger is a positive when looking at appraisal values of a house. It makes the house future proof with the increasing awareness towards the sustainability of owning an EV.
Convenience – Having an EV charger gives you the control of when to charge. There is no need to rely on public charging stations. Long voyages are the only time that an EV needs to visit a public charging station.
Faster – An effective installed charger can charge the battery in full anywhere between 45minutes to 7 hours. Yes, there are rapid charging points but those aren't cheap.
eHome EV Charging Stations are designed to be installed (Both indoor and outdoor) at private houses, communal blocks, companies and other places where user authorization is not required.
EV Rebate Scheme:
The government has introduced a clean car discount scheme on the purchase of an EV vehicle. The Clean Car Discount will be based on a vehicle's CO2 Emissions. Vehicles with zero or low emissions will qualify for a rebate. 
You are eligible for up to $8625 Incl GST rebate off the purchase of an EV vehicle (Used or New).
To increase the uptake of EVs and plug-in electric hybrid vehicles, a discount, in the form of rebate, is available for imported new and used light EVs and PHEVs registered between 1 July and 31 March 2022.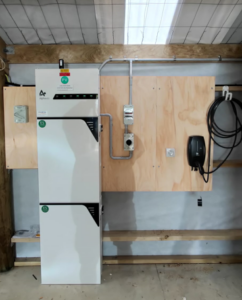 The Clean Car rebates apply to both new and used import Battery Electric Vehicles (BEVs), and Plug-in Hybrid Electric Vehicles (PHEVs). They must be under $80,000 including GST and on-road costs, be a new registration and have a 3-star safety rating or above. The Clean Car rebate scheme only applies to BEVs and PHEVs that are registered between the 1st July and 31st March 2022.
Currently, hybrids are not eligible, but they may be introduced as part of the scheme in 2022. From 2022, the Clean Car programme will expand to offer a range of rebates for imported new and used low CO2 emission vehicles. High CO2 emission vehicles will be charged a fee. The programme is expected to prevent up to 9.2 million tonnes of CO2 emissions and will help customers with the upfront cost of switching to an electrified or low emission vehicle.